guided bird- & animal watching
About Khao Sok
---
Cheow Lan Lake is a beautiful 165 km2 reservoir that was formed by the creation of Rajjaprabha Dam in 1982. The dam was commissioned by the Electricity Generating Authority of Thailand (EGAT) to meet the power demands of the quickly developing region and provides 20% of the region's electricity. 400 families that once inhabited this valley were relocated to a nearby village where they practiced mixed agriculture and rubber farming, and some of them still operate the rafthouses along the lake today.
Before the dam was built, the valley beneath the lake was connected to the jungles of Khao Sok National Park. Although it is easier to see wildlife at the lake, there is a special feeling hiking in the national park under the canopy and being surrounded by some of the oldest forests in the world. In the jungle of Khao Sok, you are able to see macaques, lizards, snakes and frogs that reside within the canopy and are more difficult to see by boat. There are many trails in the park which go to waterfalls and swimming holes, and even trails which you can take to the lake.
The manmade origin of the lake makes its surreal beauty no less impressive. One of the great advantages of the lake is its easy access to this scenery: during a trip to the lake, one can visit many different regions by boat and look for wildlife that isn't obscured by the canopy. Because of this, canopy dwelling fauna like gibbons, hornbills, and grey eagles can be spotted more easily at the lake than in the national park. As you'll read, the possibilities for exploring this lake are nearly endless, and each zone has its own unique feel.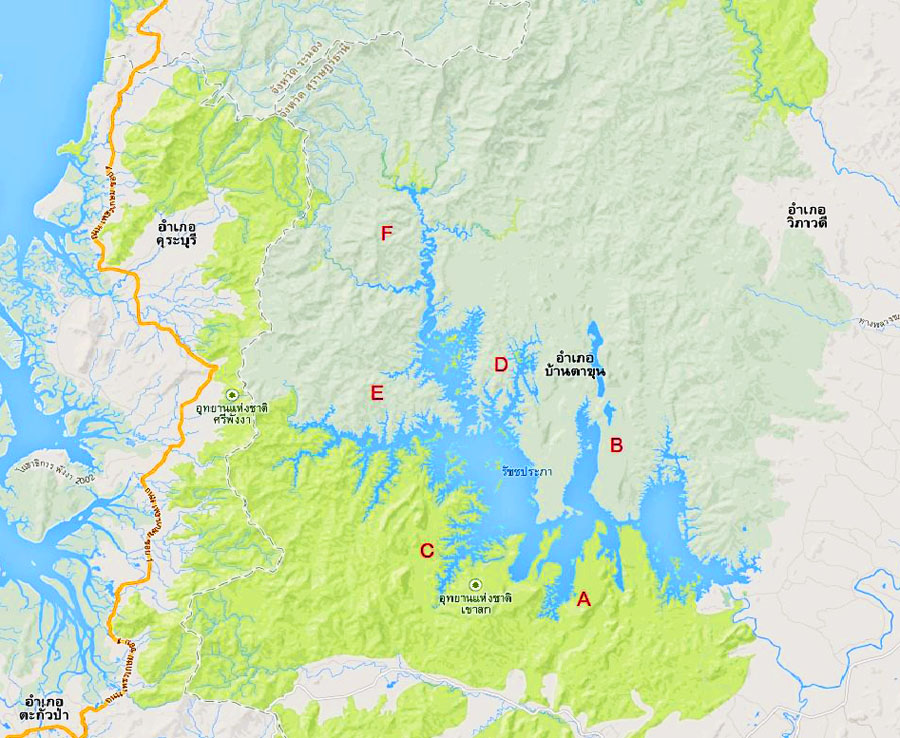 Zone A – Klong Ka is the closest zone to the Rajjaprabah pier, making it the easiest to access. It has an open, relatively flat landscape dotted with some small alcoves and islands. Other features include a nice trail that isn't too difficult along which you can occasionally spot tapir.

Zone B - Klong Long is an area commonly visited by tour groups because it is also close to the pier and it has an easy hike to a lagoon and the coral cave. This section has more hills than Klong Ka so it's scenery is more dramatic.

Zone C - Klong Bey is a zone commonly visited during dry season for those willing to hike to Nam Talu cave, which has a river running through it. Ton Tuey rafthouse is also located in this zone, one of the more isolated rafthouses on the lake. It is a good place for overnight tours if you are seeking seclusion and relaxation.

Zone D – Klong Mon is a very quiet corner of the lake dominated by high hills and steep valleys. The rugged terrain and quiet atmosphere make it a great spot for birdwatching. Hornbills and Grey Eagles are commonly seen here traversing the valleys in search of food. There is also a lovely trail that one can take from Klong Mon to Klong Saeng.

Zone E – Klong Ya is a small, little known tributary of Klong Saeng river. Though it is small and remote, it has plenty of rewards for those patient enough to make the trip, including a natural hotspring where shrimp can be seen flocking to the warmer waters.

Zone F – Klong Saeng is the main tributary of the lake and was once the largest river in southern Thailand. It is now in the back corner of the lake where the national park becomes a wildlife sanctuary, and takes three hours to access by boat. Because this zone is a wildlife sanctuary, building of rafthouses is prohibited and prior permission must be granted in order to gain access. This area more closely resembles the natural valley before it was inundated. It is more open than Klong Mon and it makes for better viewing of large fauna along its open fields. One can also hike farther back into the valleys to view spectacular remote waterfalls, some of which are also close to abandoned tin mines from the '60s.